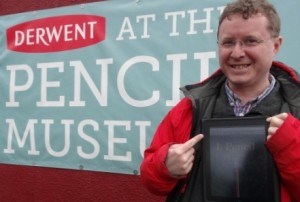 Leonard E. Read's 1958 classic essay, I, Pencil, is a must read for anyone interested in how markets function.
In a few pages, I, Pencil: My Family Tree as Told to Leonard E. Read (to give it it's full title) demonstrates the truth of what appears to be an absolutely absurd proposition that, despite the billions manufactured every year, not a single person on Earth knows how to make a pencil.
Yet as we consider all the various steps that going into making a pencil, from the logging, the transporting of the wood, the mining of the graphite and so on, the truth of Leonard Read's proposition becomes clear; what is even more remarkable is that, given all the complexity, all the various relationships and processes involved, any pencils are actually made at all, let alone some 2 billion annually!
Visiting the Pencil Museum is a "must" for any fan of Leonard Read and his wonderful essay.  (It's also great fun for those who haven't read I, Pencil.)
The Pencil Museum in Keswick, in the Lake District, illustrates the history of pencil manufacturing by Derwent, Britain's leading pencil company, which has been making pencils in Cumbria since 1832.  It shows some of the various steps in making pencils – and reinforces Read's points, that the pencil company brings together and benefits from the cooperation of many, many (often anonymous) others to produce the final product, the ordinary pencil.
We got a real buzz from visiting in May 2013 – I hope you do too!  And maybe you'll read I, Pencil when you visit, too!
Fred Smith and the good people over at the Competitive Enterprise Institute have produced this wonderful video (or below) illustrating I, Pencil; it's well worth watching.  (Thanks to my friends at IES-Europe for their link reminding me to do this post!)
Leonard E. Read's original essay, can be found here, on the Foundation for Economic Education's website: I, Pencil.
Updated: Thanks to Jonathan @PraxisReform for this lovely video of pencil making: